---
School and Office Hours for 2019-2020 School Year

Office Hours: 8:50 AM-4:50 PM
Student Instructional Time: 9:20 AM-3:50 PM
PMHS is now looking for volunteers to help with state testing, please go to the parent testing volunteers and register, if you are interested in becoming a testing volunteer
Proposed School Calendars
Below is the link to the proposed master calendars for future school years. Please review the different options and provide us with your feedback. The deadline to submit your feedback is Friday, February 27, 2020. https://www.stjohns.k12.fl.us/calendar/proposed/

Starting February 1, 2020 and closing on May 31, 2020 ESE Parent surveys will be available at the following link  https://www.esesurvey.com/Login.php
2020 -2021 School Year Registration information
Parent Information Session – All current 9th-11th grade parents/students – Thursday, February 13th 6:30-7:30PM in the PMHS Auditorium.
INFORMATION FOR INCOMING 9th GRADE PARENTS
Teacher-Recommendation-Form-AICE-IB (for out of district)
Digital-Access-Directions-Teacher-Recommendation-AICE-IB
Academy-Application-Directions-2019-20 
Winter Driving Track Day – New course starting February 2020!
An 8-hour driving course designed to improve students' driving skills and confidence with practical experience.  The course begins with a classroom lecture that focuses on the concepts of being a defensive driver, laws that relate to the operation of a motor vehicle, as well as course safety procedures. The 7 hour "Behind the Wheel" portion of the training will consist of braking, backing, parking, off road recovery, hydroplaning and lateral control movements. We will also introduce the student to driving in traffic situations as they drive on roadways within St. Johns County with a state certified driving instructor. For more information click the link below.
http://www.sjctax.us/DriverEducation.aspx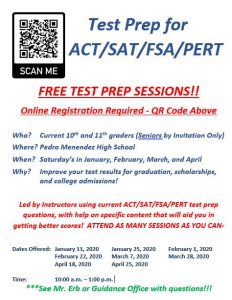 ---
FortifyFL App
Any student, educator, parent or member of the public can report school safety concerns directly to law enforcement and school administrators anonymously and easily through the FortifyFL app or http://www.getfortifyfl.com. The Florida Legislature directed the development of this tool through the Marjory Stoneman Douglas High School Public Safety Act.


---
Important Information:
The Gifted Parent Advisory Council meets four times per year to inform the school district about ways in which we can improve our efforts in serving our gifted students.  Parents of K-12 gifted students from throughout the district are encouraged to come to all of the meetings. Please join us at our next meeting which will take place at 6:30 pm on Thursday, November 21 at Pacetti Bay Middle School (245 Meadowlark Lane, St. Augustine, FL  32092).  We will meet in the PE Multi-Purpose Room. Hope to see you there! St. Johns County School District ESE Department
Parents/Guardians: The St. Johns County School District is required to annually notify parents of students with disabilities that they may be found eligible for the McKay Scholarship Program for Students with Disabilities.  For more information, please see the McKay Letter 2017-2018 and/or visit http://www.stjohns.k12.fl.us/ese/choice

The St. Johns County School District permits the use of a service animal by an individual with a disability and will not engage in any act or practice that has the purpose or effect of discriminating against an individual with a disability in the use of a service animal in accordance with Title II (28 C.F.R. §§ 35.104, 35.136).
The District's Use of Service Animals by Individuals with Disabilities document may be found at: https://www.stjohns.k12.fl.us/ese/wp-content/uploads/sites/26/2016/04/Service-Animal-policy_SJCSD_6-27-19.pdf
---

Investing in Kids (INK)
Investing in Kids (INK) is a public, non-profit 501 (c)(3) corporation recognized as the direct support organization for the St. Johns County School District. INK's mission is to lead the efforts of the entire community in raising and distributing funds to support all of our public schools. Programs that are supported by INK are Teachers of the Year Celebration, Horizon Mini-Grants, Art Attack!, Take Stock in Children, Supplemental Educational Services Tutoring Program, and Tools for Schools. 100% of donations are spent on St. Johns County students, teachers, and programs. Please visit ink-stjohns.org to make a donation or learn more about INK.
---

Search the Web
GoodSearch.com for the St. Johns County Education Foundation, and you can, too! It doesn't cost you a penny but every time you use it, the Foundation gets one! Please go to http://www.goodsearch.com/?charityid=850265 and start helping today.

About Menendez
ABOUT US!
Pedro Menendez High School is located south of historic St. Augustine, Florida. Our doors opened in the year 2000 with state-of-the-art facilities serving the needs of 1500 students in St. Johns County. Our curriculum offers Academy Programs in the areas of Business, Digital Design, Health Science and Architectural and Building Sciences. Menendez also gives students the option to participate in a rigorous program of International Baccalaureate, Advanced Placement, Dual Enrollment, and Honors Courses.