Academies & Programs of Choice
December 14, 2022: High School Showcase at WGV Renaissance
January 5, 2023: Academy Applications Open
January 17, PMHS Academy Night
January 18, 2023: TCHS Academy Night
January 21, 2023: SJCCA Auditions
January 31, 2023: Application Window Closes
Thinking about joining an Academy or Program of Choice?
View the Registration Timeline to learn about the timeline for submitting academy applications and other important dates.
Academy of Architectural and Building Sciences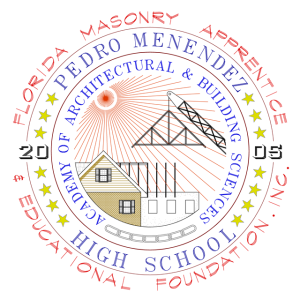 This academy focuses on providing skills and experience necessary to attain entry-level jobs in Architectural Drafting or Building Construction Technology. Students may choose a technical path leading to an apprenticeship or a professional path toward a certificate, two year or four year college degree.
Architectural Drafting students have the opportunity to earn national industry certifications in Autodesk AutoCAD User, Revit, and Inventor. Building Sciences students have the opportunity to earn national industry certification in OSHA – Occupational Safety and Health Administration. All academy students have the opportunity to qualify for Bright Futures and Gold Seal Scholarships.
VyStar Academy of Business

This Academy provides students with a rigorous business program that includes relevant concepts and skills that are transferable to postsecondary education and/or the workplace. Students graduating from this academy will leave Pedro Menendez High School with a well rounded education in general business principles, employability skills, on-the-job training, and a completed online portfolio documenting their qualifications. All business programs within the academy articulate to the St. Johns River State College and all four-year university programs with a business major. Students may earn college credit through institutional exams, portfolio review, sequenced courses, and/or dual enrollment.
Flagler Health+ Academy of Future Healthcare Professionals
This Academy introduces students to various careers in the medical and health fields. Students take courses which include Allied Health Assisting, Emergency Medical Responder, and EKG Technician to prepare for a future career in the healthcare industry. They will gain valuable hospital experience by completing clinical experiences at Flagler Hospital during their junior year. Participants in the academy will become certified in CPR. Students also have the opportunity to earn college credits through dual enrollment or advance placement course work that can be used towards St. Johns River State College's nursing, radiology and respiratory programs or that can be transferred to a university.
International Baccalaureate Program (IB)
Pedro Menendez High School is one of three high schools in the St. Johns County School District that have international acceleration programs.  Students zoned for Allen D. Nease, Pedro Menendez or St. Augustine High Schools are not eligible to apply for the international acceleration programs at schools other than their zoned school. In addition to applying to these programs through the Program of Choice application process, students will have to be deemed academically eligible to be accepted into these programs. A Teacher Recommendation Form must be submitted by all four core academic teachers.
Early College Program is available to all eligible students on a "space available" basis.  There are specific application and eligibility requirements for this program, which is provided in partnership with St. Johns River State College.  The program is available in two locations, however accepted students who are zoned for another high school are responsible for transportation. Please read the requirements and visit both the PMHS School Counseling Department website and the St. Johns River State College website for additional information.