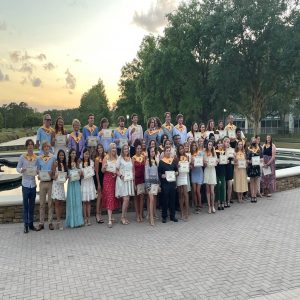 Welcome to the PMHS International Baccalaureate (IB) Program!
Diploma Program and Career Program
Questions about IB? Contact Stephanie Toffaletti (IB Coordinator) at Stephanie Toffaletti or call 904-547-8690.
Looking to get involved? Check out the IB Falcon Family Boosters Facebook page. 
The IB Mission at PMHS:
Not for school, but for life, we learn.
The mission of PMHS is to prepare our students to be college and career-ready as well as successful in high school and beyond.
As an IB school, instructing students in the values of the IB Diploma Programme and IB Career Programme, PMHS aims to develop inquiring, knowledgeable, and caring young people who help to create a better and more peaceful world through intercultural understanding and respect.
The PMHS mission is inclusive of the IB values and serves to provide a high quality, global education through teaching the standards, adjusting instruction to obtain desired results, using data to guide instruction for professional growth, providing opportunities for student leadership, and continuing our school's unique emphasis on accessibility and inclusivity by encouraging and welcoming students of various levels and abilities to participate in higher-level programs of study.
Through the inclusion of the IB Diploma and IB Career Programmes at PMHS, we encourage students to become active, compassionate, lifelong learners who understand and respect the beliefs and values of others.
What is IB?
The IB or International Baccalaureate Diploma Programme is designed as an academically challenging and balanced program of education with final examinations that prepare students, normally aged 16 to 19, for success at university and life beyond. The program is normally taught over two years and has gained recognition and respect from the world's leading universities.
What is PMHS Pre-IB?
PMHS Pre-IB instruction consists of intensified courses in Grades 9 and 10 in English, Spanish, Science, and Mathematics in preparation for the rigorous college-level curriculum of the Grade 11-12 IB Diploma Program.
History of the Program
Pedro Menendez High School opened its doors to the International Baccalaureate Programme in the Fall of 2010. Our inaugural class had 17 full diploma students, and included study in English, History, Spanish, Biology, Mathematics, and Psychology. Since our first diploma candidate exams in 2011, we have grown to sustain over 69 full Diploma Candidates in 2018 (the largest class since the inception of IB at PMHS), offer two mathematics options (Math Analysis and Approaches: Calculus and Math Application and Interpretation: Statistics), two Spanish options (Spanish B and Spanish Ab. Initio), three science options (Biology, Physics, and Environmental Systems), and four group six options (Business Management, Psychology, Visual Arts, and Dance). Many of our courses can now be taken either as SL or HL options, and all are compatible with the various Academy offerings at PMHS.
Two IB programs are currently offered at PMHS, the IB Diploma Program and the IB Career (Certificate) Program.  The ability for our students to pursue both the Diploma Programme and the Certificate options sets us apart from other programs in the nation and world.