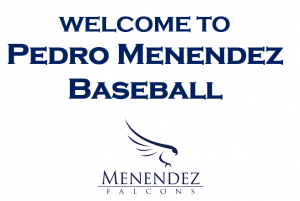 ---
On behalf of the entire Baseball program, we would like to welcome everyone to the 2020-2021 Baseball season. The staff and players are excited about this season and hope to make everyone associated with our program proud of our efforts on the field, in the classroom and in the community. The game of Baseball offers more to our students than wins and losses. For many, it is a game that teaches them the life skills such as team work and commitment, while also providing for kids to showcase what their long hours of practice have produced.
To all our parents, thank you for the sacrifices you have made over the years and for your support. A lot of what happens is not possible without your help.
Thank you,
Curtis Mack, Head Coach

---
The mission of Menendez Baseball is to provide the best possible environment in which players excel daily in the classroom and on the playing field, and to use the game of baseball as a tool to educate, promote and instill the qualities necessary to succeed in the game of life.  It is the goal of our program to focus on the development of each member, to reach his fullest potential as a student athlete, teammate and quality young man.  Our standard of excellence is built on a foundation of commitment, discipline, teamwork, and FALCON pride. 
"Baseball gives every American boy a chance to excel, not just to be as good as someone else but to be better than someone else. This is the nature of man and the name of the game".
-Ted Williams
---

–2020 FALCON SUMMER BASEBALL WORKOUT–
Monday July 20th- Friday July 24th 
9:00 am-12:00 pm (could be shorter if Heat Index Maxed)
Please take a few minutes to review the below procedures, updates and to print/sign/return forms.
-Parents remain in car during drop off and pick up times.
-Current Physical needs to be on file or copy give to Coach Mack prior.
-Mask required during check in screening.
-May not enter gate until health screening and temp. check completed.
-Players must use own gear, helmets can be checked out for week, if needed.
-Please bring your own water and/or Gatorade (it will be hot!).
-Social Distancing will be monitored at all times.
-NO COST: FIVE dollar donation to play Friday for umpire fees is much appreciated.
Fridays Intersquad Game will be LIVESTREAMED! Game starts at 9:30 am.
** We are very excited to be back out on the field to play. Please take a few minutes to review the Z.Martin Act and Summer Program Protocols (Covid-19).
These forms needs to be printed/signed and brought with you on Monday July 20th!
We look forward to a great week of practice and play.
-Coach Mack