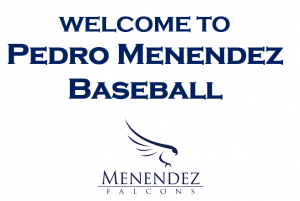 ---
Menendez Athletics welcomes new Head Coach Gil Morales! Please join us for a Parent Meeting Tuesday June 15th at 6:30pm in the Menendez cafeteria. 
---
The mission of Menendez Baseball is to provide the best possible environment in which players excel daily in the classroom and on the playing field, and to use the game of baseball as a tool to educate, promote and instill the qualities necessary to succeed in the game of life.  It is the goal of our program to focus on the development of each member, to reach his fullest potential as a student athlete, teammate and quality young man.  Our standard of excellence is built on a foundation of commitment, discipline, teamwork, and FALCON pride. 
"Baseball gives every American boy a chance to excel, not just to be as good as someone else but to be better than someone else. This is the nature of man and the name of the game".
-Ted Williams
---

–2021 Spring BALL–
We are very excited to be back out on the field to play!!
UPCOMING!!!!
 Grey/Blue Game and FAMILY WORK DAY!!!
See Coach Mack for game opportunities outside of Pedro.
We look forward to a great season of practice and play.
-Coach Mack