Important Information
We will be needing volunteers to help beginning April 10th. Go to http://www.signupgenius.com/go/10c054cadad2fa5fb6-spring to sign up.
The 2016-17 Needs Assessments Surveys are now available.  Please take the time to follow the appropriate link and complete the survey to give your feedback on the educational environment at Pedro Menendez High School.  The more feedback we receive the better we are informed as a school to meet the needs of students, parents, and faculty alike.  The surveys will close at 11:59pm on March 31st, 2017. Your feedback is valued and strongly considered when implementing new strategies for the following school year. Thank you and GO FALCONS!!!
Parent Survey
Student Survey
Staff/Faculty Survey

Parents and guardians: please take a look at our EOC parent/guardian notification letter.

Parents/Guardians: The St. Johns County School District is required to annually notify parents of students with disabilities that they may be found eligible for the McKay Scholarship Program for Students with Disabilities.  For more information, please see the McKay Letter 2017-2018 and/or visit http://www.stjohns.k12.fl.us/ese/choice/.
The ESE Parent Advisory Committee will be meeting on April 11th from 6-7:30pm here at PMHS. The topic will be an overview of programs and services for students with autism and related disabilities. See this flier for additional information.
Support our Athletic Boosters with at the upcoming Spring for a Cause and the Spring Golf Tournament!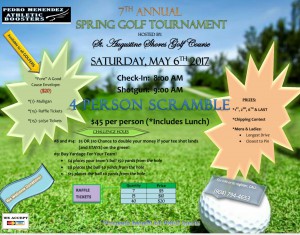 The St. Johns County School District curriculum department representatives and adoption committee members have completed the review process for the 2016-2017 Instructional Materials Adoption for Social Studies. The materials listed in the chart below are the final recommendation selections.  These resources were submitted to the school board and approved for adoption at the February 14, 2017 meeting.
Social Studies Recommendations 021417
Please note the following Florida statute regarding instructional materials that pertains to parent input regarding adopted materials:
F.S. 1006.28 (1)(a)(3) Each district school board must establish a process by which the parent of a public school student may contest the district school board's adoption of a specific instructional material. The parent must file a petition, on a form provided by the school board, within 30 calendar days after the adoption of the material by the school board. The school board must make the form available to the public and publish the form on the school district's website. The form must be signed by the parent, include the required contact information, and state the objection to the instructional material. Within 30 days after the 30-day period has expired, the school board must conduct at least one open public hearing on all petitions timely received and provide the petitioner written notification of the date and time of the hearing at least 7 days before the hearing. All instructional materials contested must be made accessible online to the public at least 7 days before a public hearing. The school board's decision after convening a hearing is final and not subject to further petition or review.
Current parents of St. Johns County School District students may file a petition for reconsideration using the form below. This form must be submitted, with petitioner's signature, to SJCSD Media Services no later than Noon on March 17, 2017 for consideration. Any forms submitted after the deadline cannot be considered.  Printed copies of the form are available in our office at 10 Hildreth Drive, St. Augustine, 32084.
Look how creative and talented our students are! Students were allowed to paint their parking spaces as a fundraiser for Best Buddies. Your parking spots look amazing! Go Falcons!
All students must complete this survey about Digital Citizenship within the first 10 days of school before they are allowed on a computer on campus as well as turn in a signed Acceptable Use Procedures (AUP) form.

No outside drinks will be allowed on campus except plastic, clear water bottles this year. Band students are allowed to leave their clear water bottles in their 6th period class.

We will not be allowing any phone check outs – please send in a note from home prior to having your student check out.
Please do not deliver outside food (Subway, McDonald's, Chick-fil-a) etc. during lunch. We will not be calling students out of class or lunch to come and get these items.
2017 Graduation Information
Graduation Day: Monday, May 22nd at 7pm at the St. Augustine Amphitheater 
Required items (CAP, GOWN, TASSEL) for graduation- ORDER ONLINE,  www.RhodesGraduation.com , click ORDER ONLINE and follow prompts. Order additional graduation items ( ANNOUNCEMENTS, NAME CARDS) at www.jostens.com. (Payments for orders placed during the order days at school may be made online, www.RhodesGraduation.com using their invoice number.  We have emailed invoices using the email address provided when they placed their order and have also mailed copies to their home addresses.  If for some reason, they have not received an invoice via email or USPS, please have them let us know, [email protected], and we will get one right out to them).
Seniors: fill out your 2017 Class Survey today!
2016-2017 Prom Rules and Regulations
The Gifted Parent Advisory Council meets four times per year to inform the school district about ways in which we can improve our efforts in serving our gifted students. Parents of K-12 gifted students from throughout the district are encouraged to come to all of the meetings. The Gifted Parent Advisory Council meetings have been scheduled for the 2016-17 school year.  We communicate this information for inclusion in school newsletters.  We hope to make St. Johns County Schools a parent friendly environment!
Tuesday, September 27: Hickory Creek Elementary Media Center 6:30-7:30 p.m.
Thursday, November 17: Palencia Elementary  Media Center 4:30-5:30 p.m.
Thursday, February 23: Hartley Elementary Media Center 5:30-6:30 p.m
Tuesday, April 25: Landrum Middle School Multi-Purpose Room 6:30-7:30 p.m.

Parents and graduates: go to Cady & Cady to download and order 2016 Graduation pictures.



Students can now order their transcripts through Parchment from 2014 to present. Watch this video for instructions on how to order them. If you need transcripts from 2013 or earlier, please email Rebecca Cosgrove at [email protected] or call her at 904-547-7137.

We're now on Twitter! Follow us @PedroMenendezHS for general school news and @Menendez_Sports for athletic news.
---
---
Veterans & Military Families eligible for free SAT/ACT prep programs

The National Football League, the Department of Defense, and eKnowledge Corporation are providing, free of charge, an 11 hour SAT and ACT prep course that comes on a DVD (or 2 CD-ROMs).
These are FREE to any student with an immediate or extended family member who is serving in the military OR retired from the military. Members of Military families or Veterans interested in receiving the FREE SAT/ACT Power Prep software should visit the following website for details: www.eKnowledge.com/military
SJCEF
The St. Johns County Education Foundation, Inc. (SJCEF) is a public, non-profit 501 (c)(3) corporation recognized as the direct support organization for the St. Johns County School District. The SJCEF's mission is to lead the efforts of the entire community in raising and distributing funds to support all of our public schools. Programs that are supported by the SJCEF are Teachers of the Year Celebration, Horizon Mini-Grants, Art Attack!, Take Stock in Children, Supplemental Educational Services Tutoring Program, and Tools for Schools. 100% of donations are spent on St. Johns County students, teachers, and programs. Please visit www.sjcef.com to make a donation or learn more about the SJCEF.
Active Directory Usernames and Passwords for Students
Students need to know their Active Directory usernames (S number) and passwords to be able to use the computers on campus and check their grades. Students received this information in homeroom. If they did not, please tell them to ask their teacher for this very important information.

Would you like to be able to check your student's grades from home?
Usernames and passwords can be accessed from Karol Holiday.

Volunteers Needed!
Students and parents: we need your help! Please visit the district website to sign up to volunteer. Parents and visitors must also fill out this form to be able to visit any school campus.
Senior Men & Women (Military Info)
Reminder… all men 18 years old must register for the Selective Service. OPT OUT Form prohibiting school officials from releasing your name, address and telephone numbers to Military Recruiters.
Rent Our Auditorium
Our auditorium is available for rent evenings and weekends! Contact Melinda Ponce for details.
Search the Web
GoodSearch.com for the St. Johns County Education Foundation, and you can, too! It doesn't cost you a penny but every time you use it, the Foundation gets one! Please go to http://www.goodsearch.com/?charityid=850265 and start helping today.
About our School
Pedro Menendez High School is located south of historic St. Augustine, Florida. Our doors opened in the year 2000 with state-of-the-art facilities serving the needs of 1500 students in St. Johns County. Our curriculum offers Academy Programs in the areas of Business, Digital Design, Health Science and Architectural and Building Sciences. Menendez also gives students the option to participate in a rigorous program of International Baccalaureate, Advanced Placement, Dual Enrollment, and Honors Courses.