Important Information
Have a safe and fun summer break! See you in August! Our summer hours are Monday through Friday, 7:30 am to 3:30 pm. We will be closed for the Fourth of July.

*Report cards are delayed due to technical issues. We expect them to be available through Home Access (HAC) by the end of the week.*
Check out the 2016-2017 Florida Teens Read books for your summer reading for English class. All of the titles are available through the public library (ebooks and books), Barnes and Noble, and Amazon.
IB students: sign up for Camp College with Mrs. Murphy or Mrs. Toffaletti. Click here for more information.

Parents and graduates: go to Cady & Cady to download and order 2016 Graduation pictures.


We are hiring AVID tutors for the 2016-2017 school year. If you are college-aged or older and available to tutor on Tuesdays and Thursday, please email Adrienne Paone for more information on how to apply.

We're now on Twitter! Follow us @PedroMenendezHS for general school news and @Menendez_Sports for athletic news.
Honor your graduate with a brick in the courtyard!

Sign up for Driving Courses online at SafeDriver.com – Use CODE: PMHS at the school gets 20%
---
Free Use of High School Outdoor Facilities This Summer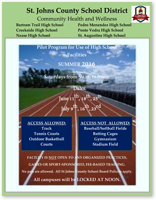 For six Saturdays in June and July, outdoor facilities at each of our high schools will be open for public use to promote community health and wellness. Some restrictions apply.
Please view the flyer for details.
---

Empowering Excellence in Educators
Learn about St. Johns County School District's new instructional evaluation system that will advance student growth and academic achievement.
Veterans & Military Families eligible for free SAT/ACT prep programs

The National Football League, the Department of Defense, and eKnowledge Corporation are providing, free of charge, an 11 hour SAT and ACT prep course that comes on a DVD (or 2 CD-ROMs).
These are FREE to any student with an immediate or extended family member who is serving in the military OR retired from the military. Members of Military families or Veterans interested in receiving the FREE SAT/ACT Power Prep software should visit the following website for details: www.eKnowledge.com/military
SJCEF
The St. Johns County Education Foundation, Inc. (SJCEF) is a public, non-profit 501 (c)(3) corporation recognized as the direct support organization for the St. Johns County School District. The SJCEF's mission is to lead the efforts of the entire community in raising and distributing funds to support all of our public schools. Programs that are supported by the SJCEF are Teachers of the Year Celebration, Horizon Mini-Grants, Art Attack!, Take Stock in Children, Supplemental Educational Services Tutoring Program, and Tools for Schools. 100% of donations are spent on St. Johns County students, teachers, and programs. Please visit www.sjcef.com to make a donation or learn more about the SJCEF.
Would you like to be able to check your students grades from home?
Visit . Usernames and passwords can be accessed from Karol Holiday. Email or call for more information.
Volunteers Needed!
Students and parents: we need your help! Please visit the district website to sign up to volunteer. Parents and visitors must also fill out this form to be able to visit any school campus.
Senior Men & Women (Military Info)
Reminder… all men 18 years old must register for the Selective Service. OPT OUT Form prohibiting school officials from releasing your name, address and telephone numbers to Military Recruiters.
Rent Our Auditorium
Our auditorium is available for rent evenings and weekends! Contact Melinda Ponce for details.
Search the Web
GoodSearch.com for the St. Johns County Education Foundation, and you can, too! It doesn't cost you a penny but every time you use it, the Foundation gets one! Please go to http://www.goodsearch.com/?charityid=850265 and start helping today.
About our School
Pedro Menendez High School is located south of historic St. Augustine, Florida. Our doors opened in the year 2000 with state of the art facilities serving the needs of 1500 students in St. Johns County. Our curriculum offers Academy Programs in the areas of Business, Digital Design, Health Science and Architectural and Building Sciences. Menendez also gives students the option to participate in a rigorous program of International Baccalaureate, Advanced Placement, Dual Enrollment, and Honors Courses.