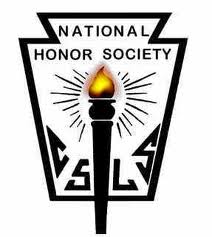 ---
Sponsors:
Morgan Reed (Room 995) [email protected]
Adrienne Paone (Room 847) [email protected]
To apply, a student must:
-Be a sophomore, junior or senior
-Have a 3.5 unweighted GPA
-Be enrolled in at least two honors courses per year
National Honor Society Application for Membership
Officers for 2022-2023:

President: Chloe Bareswilt
Vice President of Service: Cali Lennon
Vice President of Scholarship: Sydney Smith
Secretary: Penelope Concha
Treasurer: Andi Barbour
Sergeant-at-Arms: Davis Wimpelberg
Historian: Emma Curtain

Senior Representative: Hannah Davis

 

Meeting Dates for 2022-23

General meetings are held on the second Tuesday of the month at 8:30 in the Media Center.  $35 dues (for new members) and $30 for returning members will be collected at the first meeting of the year.

Officer meetings will be held on the second Monday of the month at 8:30 in the Media Center.

Attendance is mandatory.

Students are dismissed upon missing three meetings.  Three tardies are equal to one absence.
Examples of NHS service activities:
Assisting others in need
Open house tours
Secret Santa
Boo Bags
Cuddle Blankets   
Tutoring
Teacher breakfasts and luncheons
Special Olympics
Betty Griffin House donations
Beach clean up
Make sure you are participating in service projects!  You are required to complete at least two per semester.