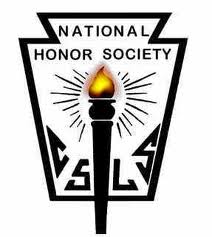 National Honor Society
---
Sponsors:
Kate Neff Library (Media Center) [email protected]
Adrienne Paone (Media Center) [email protected]
To apply, a student must:
-Be a sophomore, junior or senior
-Have a 3.5 unweighted GPA
-Be enrolled in at least two honors courses per year
If you meet the above qualifications, click here to print out and fill out an application. Please return to either Mrs. Neff or Mrs. Paone by Wednesday, September 27th. No late applications will be accepted.
Officers for 2017-2018:

President: Rivkah Fuhrman
Vice President of Service: Ashley Botu
Vice President of Scholarship: Elizabeth Upton
Secretary: Mary Rubright
Treasurer: Haley Nichols
Sergeant-at-Arms: Carlee Correia
Historian: Sarah Phillips
Senior Class Representative: Shannon Bentley





Meeting Dates for 2017-18

General meetings are held on the second Friday of the month at 8:30 in the Media Center.  $35 dues (for new members) and $30 for returning members will be collected at the first meeting of the year.

Officer meetings will be held on the second Thursday of the month at 8:30 in the Media Center.

Attendance is mandatory.

Students are dismissed upon missing three meetings.  Three tardies are equal to one absence.
Service hour verification log ——> NHS service hour verification form
NHS Service activities:
Assisting others in need
Open house tours
Freshman orientation tours   
Tutoring
Teacher breakfasts and luncheons
Special Olympics
Betty Griffin House donations
Beach clean up
Make sure you are participating in service projects!  You are required to complete at least two per semester.