Link to the article in The Record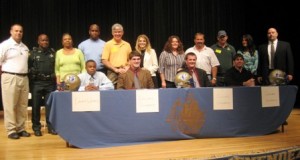 Three players signing letters of intent with Concord University in Athens, West Virginia an NCAA Division II School: 1. Andrew Baker, 6'5 300 lbs. Center – 3.4 GPA 2. Steve Sindad, 6'6 280 lbs. Offensive Tackle – 3.6 GPA 3. Thomas Stigall, 6'3 240 lbs. Tight End – 2.7 GPA
One player signing a letter of intent with Edward Waters College in Jacksonville, FL an NAIA School Tyler Coleman, 5'7 150 lbs. Running Back – 3.5 GPA
Please congratulate these students for their tremendous work on the football field, but more importantly their outstanding work in the classroom.
All Four received full scholarships with a combination of both athletic AND academic aid.
It is a huge tribute not only to their coaches but more importantly to you, their teachers.
Keith Cromwell Head Football Coach Pedro Menendez High School